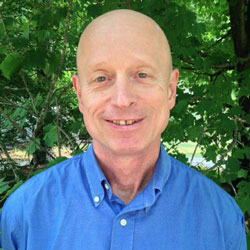 Mike McHugh is a Licensed Clinical Social Worker with over 25 years of experience. Mike worked as primary therapist at a variety of settings including private psychiatric hospitals and with community mental health. Mike has also been a Case Manager for a Recovering Professional's Program. In these capacities, he was involved in the treatment of addiction as well as other psychiatric illnesses, including mood, anxiety, and personality disorders.
Mike loves working with individuals, families, couples and groups. Early in his career he worked with children and adolescents. In recent years his work has been primarily with adults. Mike values the process of openness, being non-judgemental, practicing empathy and compassion. His therapy approach is grounded in mindfulness and utilizes principles from CBT, ACT and neuro-biology. Mike knows how difficult it is to ask for help and connect meaningfully with another. He strives to build a safe and trusting space to facilitate the healing process and greater mental and behavioral flexibility. He will assist in learning effective coping skills and emphasize how to set meaningful goals based upon your values.
Mike's work has been strongly influenced by attachment theory, which illustrates the need to understand and achieve secure attachment in one's life. Wisdom is earned often through struggle, learning from mistakes, but especially through healthy relationships. He brings down-to-earth humanity in his work with clients.
Phone: 678-851-0528